Description
Product name: Touch lamp quran speaker
Function: Complete Quran and surah ayat fast select 
               14 translations and 18 reciters
               High performance audio output 5W loud speaker 
               Quran Ayah by Ayah word by word recitation
               Sahih Al-Bukhari, Hisnul Muslim, Salat Method *Sahih Al-Muslim, Hajj&Umrah, Al-Ruqyah
              Complete Tafseer Sharavi audio, 40Hadiths
              Hot Key MP3(Yaseen, Ayatul Kursi, Ruqiya)
              Rechargeable Li-battery (USB Charging)
             Sleep mode (speaker switch off after 30/60/90 mins) 
             Clap lamp top to choose light brightness
Style:Islamic Muslim Quran learning equipment
Color: 7 Changeable colorful lights
Support:Touch,remote and bluetooth phone application control
Battery Li-ion:3.7V  1800mAh
Working time :More than 4.5 hours
Bluetooth/remote control distance:10-15m
Memory: 8G
Package Type:
Carton box: 69*36*34cm
Single package size: 17*16*14cm
A Carton of 20PCS
G.W.:11kg /CTN.
N.W.:10kg /CTN.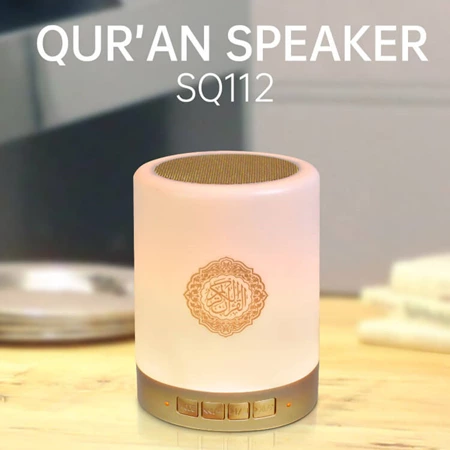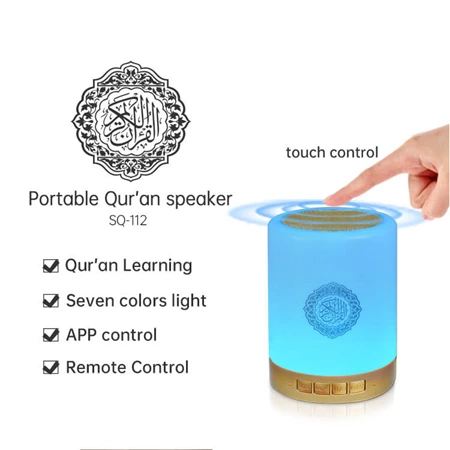 Product Description
App control Touch lamp quran Portable table lamps smart wireless LED night light quran speaker
— Playing any Quran surah by pressing button on remote
— Playing Quran audio word by word. Easy for learning Quran by this way.
— Playing Quran translation. Select your native language for understand Quran meaning.
— Playing MP3 audio. Support any audio MP3 files.
— Combine and single mode available. For listening Quran audio and any translation together, please press the MODE button, for single mode, press again.
—3 level Lighting by remote.
— Touch the golden place can control the light.
Sleep Aid Night Light
Comfortable lighting helps sleep
Can help your family sleep better
You can also sleep outdoors
High-quality Bluetooth speakers
Compatible with all Bluetooth-enabled devices
The Bluetooth range is 10 meters and the Bluetooth connection speed is fast.
Touch lamp qur'an speaker New design with new features
Can freely transform different lighting scene mode by hand touch. Support the Multiple reciters and multilingual Qur'an learning environment.. Support a number of different light effects scene selection. Large voice and give you the different perfect experience.
Translation and Famous reciters support Playing Quran translation . Select your native language for underatand Quran meaning . 14 Language can choose
18 Reciters
(1) Word by Word (2)Mohammad Siddique Mishawi with children (3)Saood ash Shuraym
(4)al Tablaway (5)Abu Baker Shatery (6) Abdulah Matroud
(7) Mahir Mouiqlee (8) Abdullah Basfer (9) Al-Mishawi
(10)AbdulBasit (11) Muhammad Jibreel (12)Muhammad Ayyub
(13) Al-Husari (14) Al-Ajmi (15) Al-Fasy
(16) Al-Hudaifi (17) Saad Alghamdi (18) Al-Sudais
14 Languages
1. English Transaltion 2. Urdu Translation 3. French Translation
4. BanglaTranslation 5. Indonesian Translation 6. Malaysian Translation
7. Somali Transaltion 8. Turkish Translation 9. Hindi Translation
10.Tamil Translation 11.Jalalain Translation 12. Russian Translation
13. Uzbek Translation 14. Farsi Translation
Quran Speaker Features:
- HD High Superior Sound Quality.
- APP Control
- HD Quality Quran Recitation Audio (18 Voices)
- Quran Translation Audio (14 Languages)
- Quran Translations Include English, Urdu, Malay, Turkish etc.
- Complete Tafseer Audio
- FM Radio, AZAN
- MP3 Player
- Fast Surah Selection (NEW)
Moon Lamp Quran Speaker, SQ-510