SmartWatch HW18 Sport 40mm Infinity Display
The HW Smartwatch series is back with a new update called HW18. This new update gives the smartwatch an improved look, better clone of Series 6, with better hardware and features. It is equipped with a 1.6 inch full touch screen, customize watch faces, monitor heart rate, blood pressure and blood oxygen, multiple multisport modes, even wallet function and business cards. The most important thing is that a speaker and microphone are built in to make calls via Bluetooth, all this gives a good idea about its capabilities.
Key Features of HW18 Smartwatch
Built-in speaker and microphone

1.6 inch full-touch screen, 320*385 resolution

200mAh battery

Customize watch faces

Heart rate, blood pressure and blood oxygen monitor

Multiple multisport modes

3 dynamic menu styles

Wallet and business cards function
HW18 Sport Smart Watch – Black Smart Watch – IP67 Waterproof + Strap Offer
Design and build quality
The HW18 Smartwatch features a sleek, modern design that is somewhat similar to the current Series 6 , but with minor differences. It's designed in a square shape with a 2.5D curved screen on the sides, it has a spinner that works to change clock faces, turn pages, zoom in or out. There is now also another button to access the menu or turn the screen off. Further down the button you will find the microphone, in addition to holes on the left side, which is the built-in speaker.
Overall, the body is thin and light, made of high-quality aluminum alloy, 44mm in size and 10.5mm in thickness. Very light, no more than 47g, which makes it comfortable on the wrist. It also contains plastic in its structure and on the bottom, it has the sensors and battery charging contacts. Although it is a budget smartwatch, you will basically notice that the manufacturing quality is good and even the new design inspired by the 6 series is amazing, it is one of the best Smart Watches elected.
The strap of the smartwatch HW18 is made of silicone and also comes as an offer in textile, light and comfortable on the wrist for long-lasting wear. You can use any strap for 38/40 because it is easily removable and there are thousands of options available in silicone, textile and metal, with different colors and designs. You will always feel that you are wearing a new Smartwatch, fitting properly to your style and taste.
display screen
The display on the HW18 Smartwatch is fantastic, it's a large 1.6-inch IPS screen, and you'll notice that the edges of the glass are very narrow. The glass is 2.5D curved to display better content and details, and because it has a resolution of 320*385 pixels, it has a high refresh rate. It's definitely one of the best screens on a low-end smartwatch in terms of resolution, even the color sharpness and brightness is so good, especially when it's used in bright sunlight.
In fact, the reason it is a fantastic screen is that it is quite large and occupies most of the interface, with narrow sides, and this is only found in smartwatches with higher costs. This is in contrast to other cheaper smartwatches that contain a touchscreen just through the middle of the screen and have fairly wide sides.
HW18 watch faces
In terms of watch faces or Face Watch, the HW18 Smartwatch has many different pre-installed watch faces. You can easily switch between them by long pressing on the home screen or through the WearFit Pro app . More than 50 watch faces online are available for download. With customization capabilities for a variety of colors, retro, analog, 3D and digital faces. You can even use live wallpaper or even your own photos as a clock face background or any other wallpaper you like.
Waterproof
With IP67 waterproof on the HW18 Smartwatch, it means you will be able to wear it while washing your hands or on rainy days, although the watch is not approved for swimming, but very effective for use in activities as well as heavy sweating. Therefore, it is not recommended to swim for a long time, dive or expose it to hot water or salt water to avoid any serious damage to the watch. In the long or short term, with the presence of a speaker and microphone, avoiding these exposures will be good, however, if it is exposed to water in any way, it is preferable to dry the watch after immersion in water and before operating it. it, so that it stays with me as long as possible working.
Performance to detail
When it comes to performance, the HW18 Smartwatch adopts the integrated Hs6621 chip, for higher response speed and faster data processing. It is powered with a 64MB ROM memory, so the watch can be equipped with more dials. To monitor your health, this device has an SC7R30 heart rate sensor and a G sensor. Therefore, this device monitors and manages your movements at all times, taking good care of you throughout the day.
This watch supports Bluetooth 5.2 calls. Therefore, you will have no problems in contacting whoever is on the call, because it is the fastest and most stable system. This version is compatible with Android Systems 5.0 and above or iOS 10.0 and other versions above. For the connection to be made between the phone and the watch, it will only be necessary to install an APP, everything will be functional through the WearFit Pro application . However, it does not have its own GPS sensor, which means that you will always have to use it with a smartphone to obtain its location.
How to use the HW18 Smartwatch
So far, the HW18 smartwatch runs on a very user-friendly platform, and navigation via touch screen is acceptable with light engagement at times.
You can access quick menu by swiping from top to bottom, this menu allows you to change screen brightness, Settings, Screen Lock, Bluetooth Phone, Wallet Function and Business Cards.

 

It also provides a percentage of the battery and see if your phone is connected to the watch, via a padlock.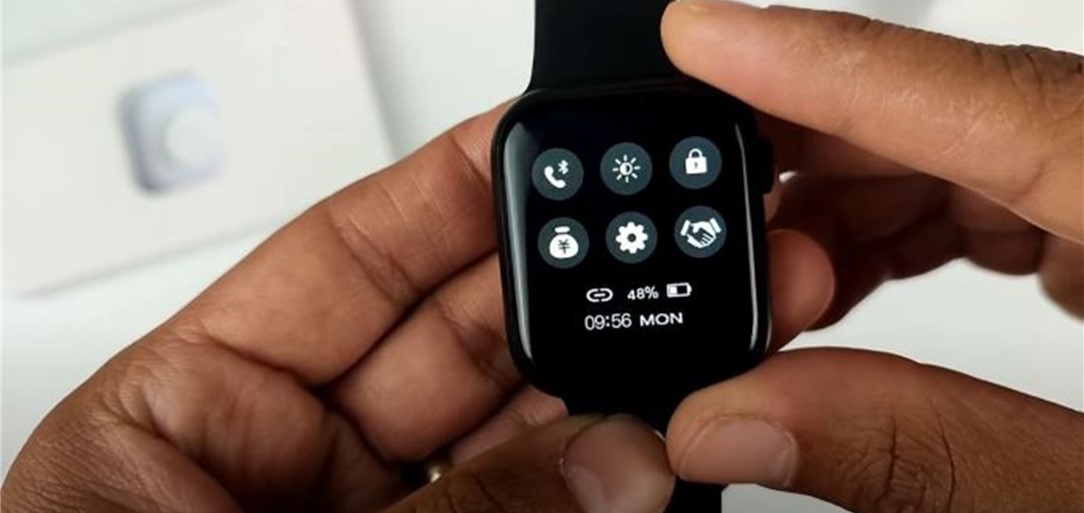 When swiping from left to right, a split window will appear on the side with time, date, sync QR code, SOS and the last 4 apps open.

Swiping from right to left, you will find shortcuts for monitoring heart rate, data, weather and adding other components such as music control, sport modes and others.

If you swipe up from the bottom, you'll only see notifications.

By pressing the side buttons, you will find the application menu, which includes heart rate and sleep monitoring, steps, settings and other features that include photo capture from the watch, music, weather, sound recording, call book, calculator , menu styles, and more.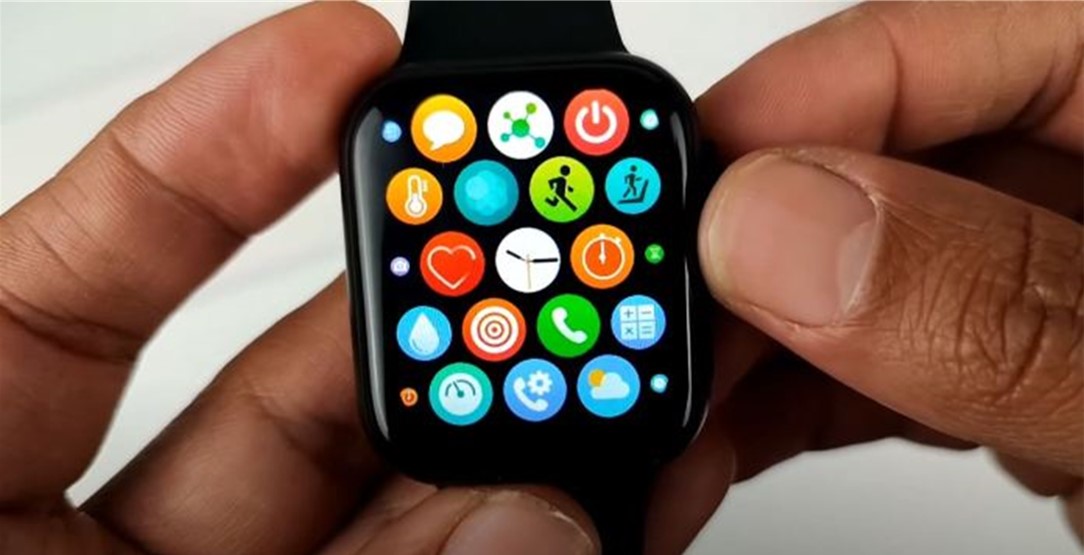 The menu has 3 different styles to suit your taste, one in the form of beehive bubble icons, like the ones in the image above, another in the form of 6 square grid icons or in the form of dynamic lists, you will be able to switch between them. by double-clicking the side spinner. You will be able to navigate between the applications, either by the touch screen or by rotating the side button.
HW18 Smartwatch Health & Fitness and Functions
The HW18 Smartwatch is equipped with multi-sport modes to suit any of your needs, including indoor and outdoor running, walking, free movement, push-ups, sit-ups, indoor and outdoor cycling, pool swimming, mountaineering and free training.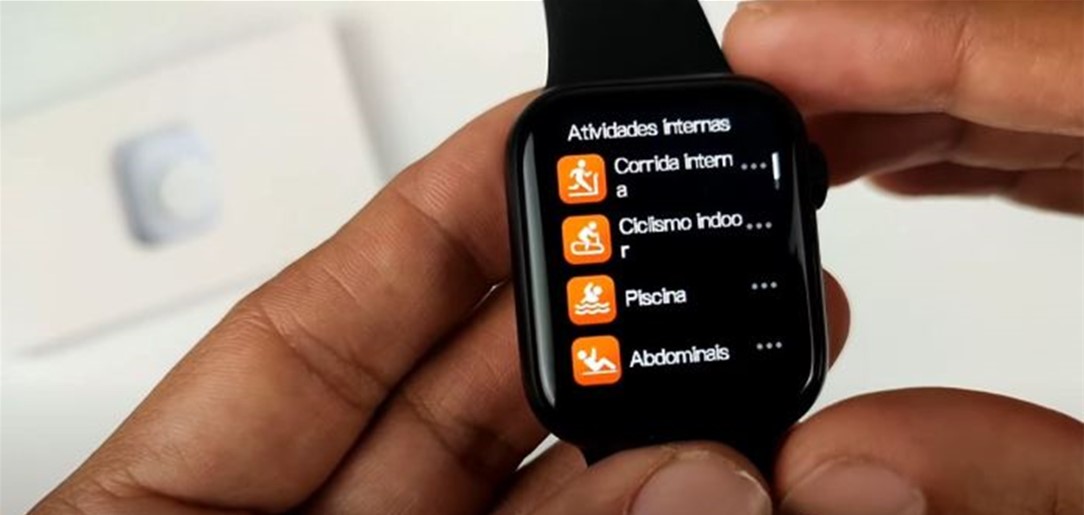 In addition to sports features, you can also monitor your heart rate in real time to check if your heart rate is normal, sleep monitor to measure whether your sleep is light or full sleep. It also provides deep sleep and wake time data for an analysis of your sleep patterns. Monitor blood pressure and measure blood oxygen levels in real time, to improve cardiovascular system capacity and prevent low blood oxygen level. Causing discomfort to a person's body.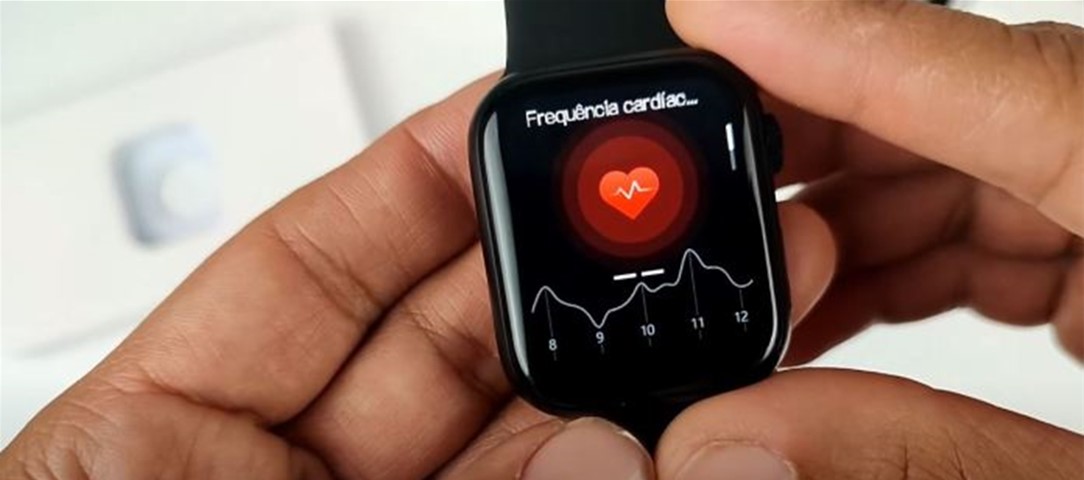 Although it has a good SC7R30 sensor that is more accurate than other sensors commonly used in more economical systems, this does not mean that the measurements provided by this Smartwatch are completely accurate. For greater accuracy, you should go to a pharmacy or consult a doctor. But since your Smartwatch can alert you to some deviations from the normality of your body, you will have to take advantage of all the benefits it has. Because the data collected is not completely reliable, because it is not a medical instrument, but it makes you much more aware of your health status and physical performance.
WearFit Pro App for HW18 Smartwatch
The HW18 Smartwatch is compatible with the WearFit Pro app for Android and iOS to help you set up and use your watch more efficiently. You will be able to take advantage of some features, statistics and functions, without any additional equipment. Functions such as steps taken, hours of sleep, heart rate measurements you have taken. And all this is accomplished by automatically integrating the watch data on the home screen, with the ability to view it daily or monthly. Also set exercise goals and encourage yourself to complete the amount of exercise each day through a simple, easy-to-understand operating interface with sections like steps, distance, notifications, alarm and more.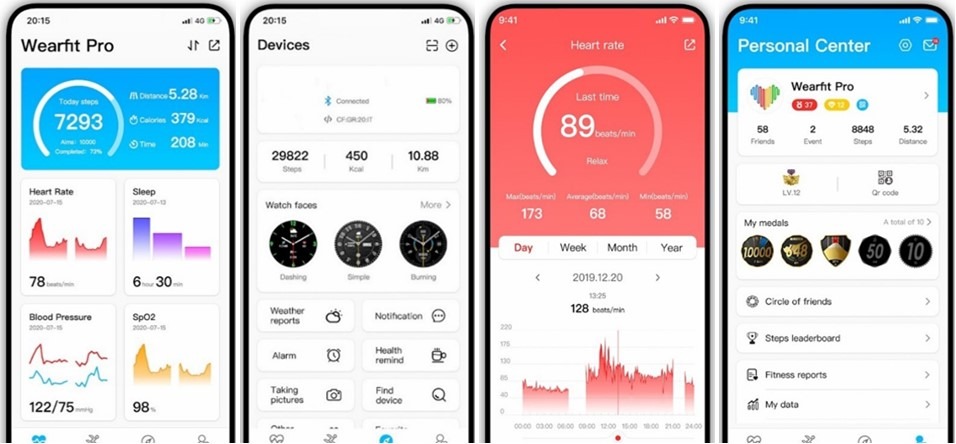 The app can be downloaded directly from Google via the " Play Store " for Android.

For iPhone directly from Apple Store via " App Store ". So, you know it's a verified and safe app.

How to pair HW18 Smartwatch with smartphone
It's easy to connect the HW18 Smartwatch to your phone. After installing the WearFit Pro app and setting up your account with APP registration, all you need to do is:
Turn on the Bluetooth of the watch and cell phone.

Click Add device in APP settings to connect the watch to the APP.

iPhone

 

phones

 

need to agree to the app's display message notifications.

 

Android Phones

 

need

 

to agree to read all notification permissions such as contact information and agree to background operation of the app in the settings.

When paired, you will be able to see the clock screen and battery percentage in the APP.

So that the WearFit Pro APP is not disabled by the phone's battery management, it is recommended that the battery saver is unrestricted.

All done?

 

Well now it's time to go to the Bluetooth settings on the phone, search for new devices and activate

 

Watch Call

 

pairing .

 

This device will allow you to receive and make calls via Bluetooth.

 

Also check that Bluetooth is enabled on the watch so that it can sync.
Once this is done, it will communicate directly and without complications, with automatic time and language configuration, as well as a phone call feature. It will also automatically update the smartwatch firmware and software if available. As for the weather, well this has been a puzzle for most WearFit Pro APP users. On many devices, this function does not update constantly and may even appear wrong, but let's hope the APP creators can fix it.
Making calls on the HW18 Smartwatch
The most important feature of the Smartwatch HW18 is that it is equipped with a microphone and a speaker. This way, it doesn't just display a call, but you can also receive and make calls via Bluetooth directly from the watch with HD speaker and microphone. Of course, this will be done with your smartphone, but you won't even need to take your phone out of your pocket to answer a simple call.
Notifications
Notifications are clearly visible and easily readable on the screen. You can choose many different popular apps to give notifications on HW18 Smartwatch, for example WhatsApp, Twitter, Facebook, Instagram, SMS, WeChat and other apps are supported.
You can also access call or message notifications like many other functions. For example, stopwatch, alarm, calendar, sedentary reminders, remote camera control to take selfies with a touch of the screen, also, you can control the music just with your watch.
Smartwatch HW18 battery life and charging time
All in all, the HW18 Smartwatch offers a decent battery, considered good in this category, with a capacity of 200mAh, which will allow you to charge up to 7 days of normal use with continuous heart rate monitoring. About 30 days in standby or standby mode, it all depends on the type of activities you do or have activated. It must be charged with a slow charge charger, maximum 1Amp, so as not to damage the battery of the HW18 Smartwatch. It takes about two hours to fully charge the battery.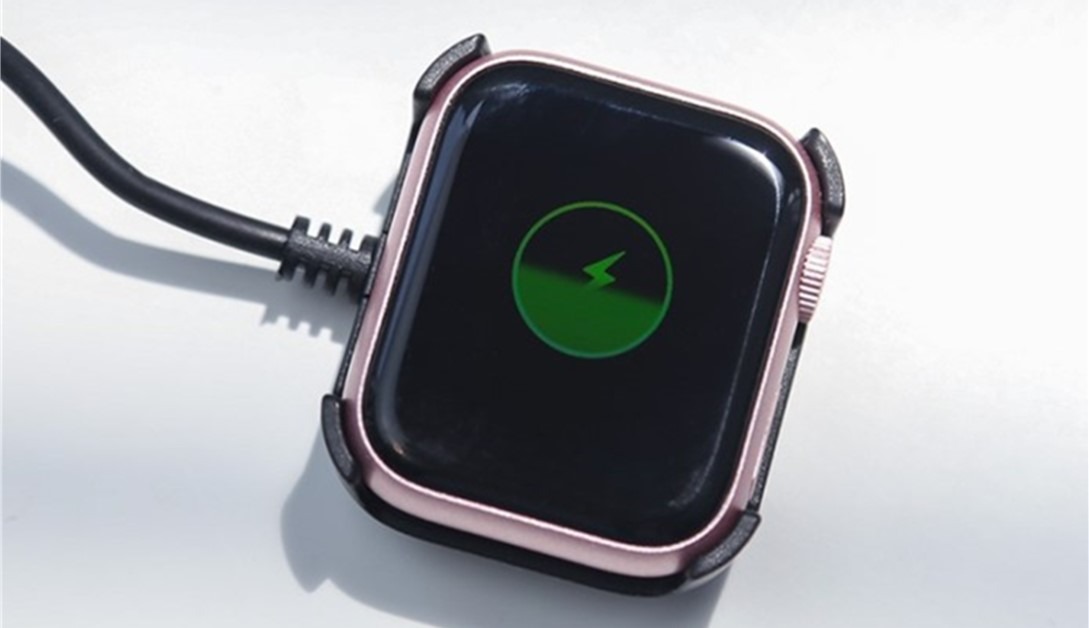 Package content
1x HW18 Smartwatch black

1x USB docking charger

1x User Manual

1x Black silicone bracelet

1x Black textile-nylon strap
HW18 Smartwatch Specifications
Model

HW18

Color

black

Chip/Processor

Hs6621

ROM memory

64MB

Bluetooth version

BT V5.2 supports Bluetooth calling via Watch Call

compatible OS

Android 5.0, iOS 10.0 or higher

operating mode

Full touch + side key + touch button and spinner

Application Name

WearFit Pro

application language

English, French, Spanish, Polish, Portuguese, Korean, Italian, German, Malay, Indonesia, Dutch, Vietnamese, Turkish, Russian, Arabic, Hebrew, Thai, Greek, Simplified Chinese, Traditional Chinese, Hindi and Burmese.

clock language

Chinese, English, Arabic, French, German, Spanish, Portuguese, Russian, Thai, Polish, Italian, Czech, Turkish, Greek, Latin, Romanian, Vietnamese, Danish.

Sport Modes

Support and support indoor and outdoor running, walking, free movement, push-ups, sit-ups, indoor and outdoor cycling, swimming, mountaineering and free training.

Waterproof

IP67

Sensor

3-axis G-sensor, SC7R30 heart rate sensor.

Screen

Size: 1.6 inches




Display type: IPS 2.5D screen




curved resolution: 320*385

Drums

Battery capacity: 200mAh




Standby time: up to 30 days




Usage time: About 5-7 days




Charging time: About 2 hours




Charging type: Charger base

case and bracelet

The shape of the dial: Square




Strap type: 38/40 x 20mm (removable strap) Strap


material: silicone/pin fixed;

 

textile-nylon/fixed by velcro Case


material: Zinc alloy + plastic




Weight: about 47g




41*34.5*10.5mm

Other features

Customizable watch face, message notifications, alarm, weather, find watch function, music controls, heart rate, blood pressure, blood oxygen, temperature, 2 mini-games, password unlock, wallet function and business cards.
IP67 rated water resistant watch.
See what the IP67 and IP68 certifications are and what they mean check what is allowed and safe to do with your watch so you don't damage it.
a useful advice
We advise that your new HW18 smartwatch receives an initial full charge of approximately 6 hours before you start exploring. Good luck!
Note: Images may not match or differ from the actual product, they are for product illustration only. Data and characteristics may be modified by the manufacturer without prior notice.